Tungsten Bucking Bar Catalogue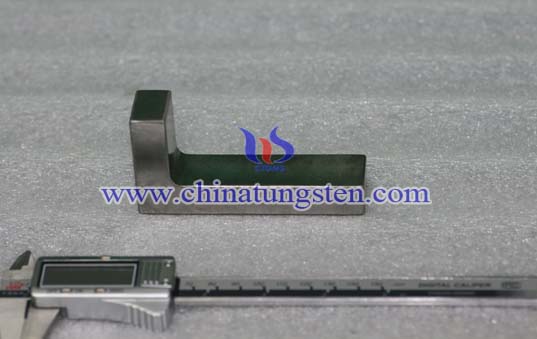 Chinatungsten Online can supply all shapes of tungsten bucking bar. All of our tungsten bucking bars of the list following are made of tungsten alloy material. All edges are de-burred and surfaces contorl are grinded for troubles-free use.
Choose one of these standard tungsten bucking bars or offer tungsten bucking bar as per the customs' designs without any additional charge, Chinatungsten Online could make it. The types of tungsten bucking bars shown below are only a part of the regular specifications from Chinatungsten's design, if you have any special type requirements, please feel free to contact.
DWG. No.
061304
DWG. No.
071431
Size (inch)
4×1×0.63
Size (inch)
2.5×1.5×0.75
Appr. W.(kgs)
0.75
Appr. W.(kgs)
0.70
Order
Order
DWG. No.
071432
DWG. No.
071433
Size (inch)
2.5×1.5×0.75
Size (inch)
2.5×1.5×1.5
Appr. W.(kgs)
0.71
Appr. W.(kgs)
1.00
Order
Order
DWG. No.
071440
DWG. No.
071472
Size (inch)
3×1.6×0.5
Size (inch)
2×1×1
Appr. W.(kgs)
0.70
Appr. W.(kgs)
0.65
Order
Order
DWG. No.
071469
DWG. No.
071469b
Size (inch)
4×0.9×1.8
Size (inch)
4×0.9×1.8
Appr. W.(kgs)
1.40
Appr. W.(kgs)
1.40
Order
Order
DWG. No.
081479
DWG. No.
081503
Size (inch)
4×1×2
Size (inch)
2×1.5×0.5
Appr. W.(kgs)
1.00
Appr. W.(kgs)
0.5
Order
Order
DWG. No.
081480
DWG. No.
081481
Size (inch)
3.5×1.5×1
Size (inch)
3.5×1.5×0.4
Appr. W.(kgs)
1.50
Appr. W.(kgs)
0.60
Order
Order
DWG. No.
091664
DWG. No.
091665
Size (inch)
3.8×1.2×0.6
Size (inch)
3.3×1.2×0.5
Appr. W.(kgs)
0.66
Appr. W.(kgs)
0.50
Order
Order
DWG. No.
071439
DWG. No.
091799
Size (inch)
3×2×1.4
Size (inch)
4.0×2.0×1.0
Appr. W.(kgs)
2.0
Appr. W.(kgs)
1.20
Order
Order